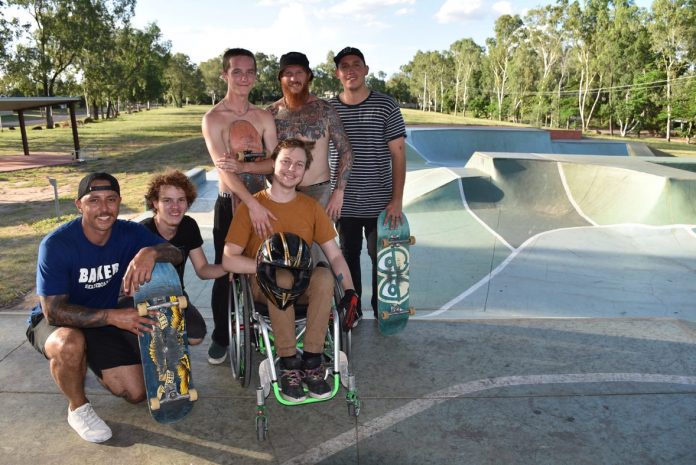 A LOCAL young man lost the function of his legs, but that failed to halt his passion.
Eighteen-year-old Jack Van Hees has Tourette Syndrome, and lost the use of his legs due to a tic he developed later in his diagnosis.
However, due to the amazing support from the Emerald community, and even outside of it, he has been able to continue skating – something he has loved for a long time.
Mr Van Hees said he has lived in Emerald almost his entire life.
"The community is so inclusive," he said.
"Everyone looks out for each other and that's really exciting to see."
Mr Van Hees said he has had Tourette Syndrome since he was 15.
"For most of that time, I've shown general symptoms, but then I started losing function in my legs," he said.
"It's happened three times in the past for three to four months at a time.
"Then about seven months ago, I just woke up one morning and couldn't walk."
However, he still finds beauty in the challenge, saying it has allowed him to be more social "because of the talking points".
"The most challenging bit has been daily life," he said.
"Living independently and regaining confidence in myself has been hard, but then I just look at where I've come to and it helps build that confidence."
'-type: imageimage:- '/assets/jack-van-hees.jpgA lot of that confidence has been brought out by members of the Emerald community, Mr Van Hees said.
"I met a man named Aaron Lee who has done a lot of work with the skate park," he said.
"When I lost the ability to walk, he brought the community together and I realised how many people supported me.
"Aaron started a GoFundMe and we reached $4000 in the first three days.
"Even strangers have reached out to me.
"The community really supports you."
The Emerald skating community means a lot to Mr Van Hees, but so does the sport, he said.
"I used to skateboard a bit and I loved it," he said.
"It was an escape from reality, and it was hard when I lost that.
"I was inspired by the skater with a disability, Aaron Fotheringham, who skates in a wheelchair.
"I started sending him videos of my skating after I started using my wheelchair and he was really encouraging.
"Now when I skate, I really feel a sense of purpose because I feel like I'm doing it for everyone who helped me and who I look up to.
"It's my passion."
Mr Van Hees was able to buy a skating-level wheelchair with the funds raised in the GoFundMe campaign and continues to skate whenever he gets the chance.