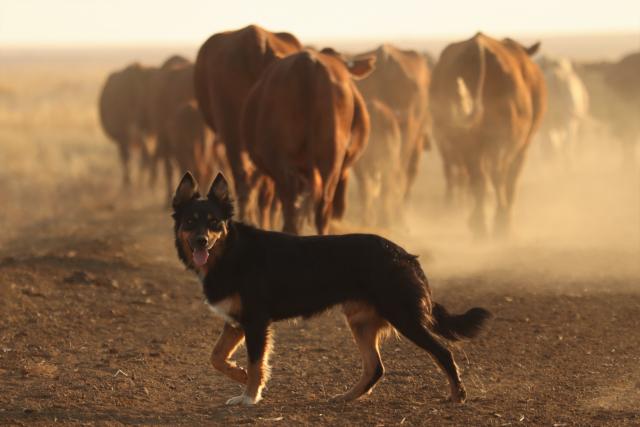 For those who might recall the muster I wrote about last year, here is an update.
This time we were mustering cattle, not sheep, and sadly, two of our old warriors are no longer with us, age having caught up to them.
Would the pups of last year prove themselves worthy of receiving the baton from their elders?
We were about to find out.
I had them in the back of the ute, while the better half mustered the mob together on motorbike, when we ran into a slight hiccup.
A couple of calves, left in the brush while their mums grazed, refused to budge. Mum must have ordered them to stay put and that's exactly what they did.
Operating on ancient wisdom, the better half reasoned that, if Mohammed doesn't go to the mountain, the mountain must come to Mohammed, which meant he had to push the mob back to the calves.
Unfortunately, the mob was also refusing to budge, which left us at an impasse.
Enter our secret weapon.
Houdini and the Midget have graduated to senior dogs, and they were out of the back like twin rockets at a whistle from the boss that I didn't even hear.
The pups barely missed a beat and were out right behind them, happening so fast it looked like canine wave sloshing over the side of the tray.
By the time I caught up, I could see that the young ones had joined the new senior contingent to form a new quartet.
The Four Canines of the Apocalypse had struck our cattle.
This was the first time they'd worked cattle together on their own and I was pleased to see that they already have the makings of another well-oiled team.
None have the experience of their elders, but what they lack in seasoning, they more than make up for in energy and enthusiasm.
Mind you, that enthusiasm was nearly the undoing of the younger ones, as it swamped their survival instinct when going toe to toe with a protective mother.
The Midget proved her instincts are flawless, as she knew when to hold them and when to fold and run straight back to me.
A gambler she is not.
Fortunately, the pups took their cue from her and also ducked for cover.
But it wasn't long before the four were back in action, nudging the mob in the direction of the lane and eventually into the yards.
I have to say, the previous cattle muster didn't exactly go smoothly, but this time, the four were flawless, getting the entire mob in the yards without a hitch.
And I couldn't have been prouder of my fur babies.
As for the boss, he was just relieved to have the job done.