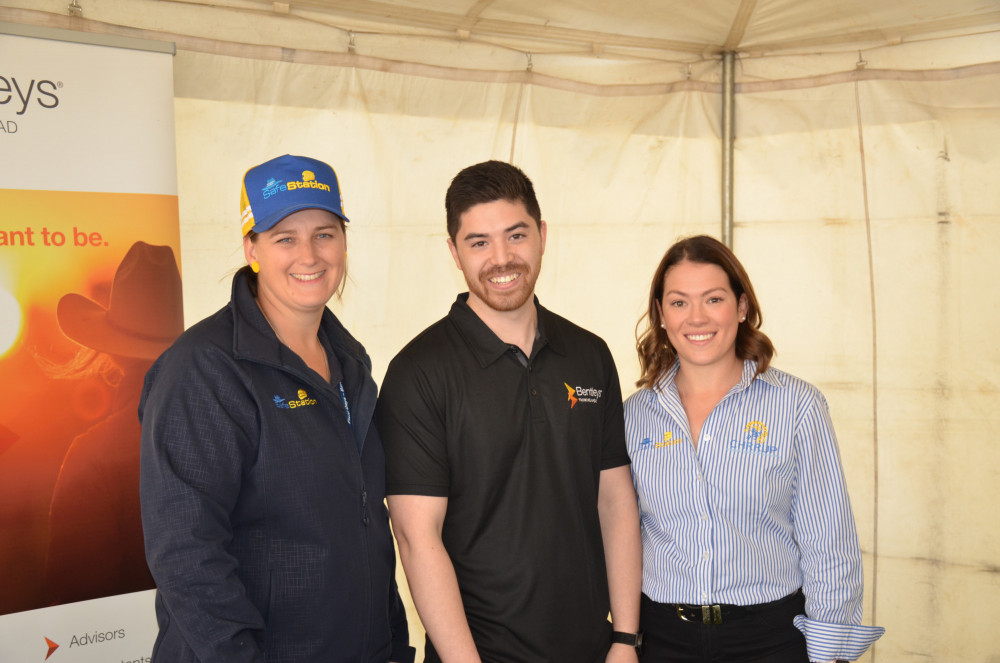 Michael R Williams
AN Emerald-based company that deals with community and sustainability have set its sights on tackling the worker shortage issue.
Central Highlands Regional Resources Use Planning?Cooperative (CHRRUP) held a panel at this year's Westech.
CHRRUP Agricultural Workforce Officer for Central Highlands and Central West Queensland Meg McCosker said Westech was a great opportunity to get the name of her group out into the west and to make people aware of their campaign.
"My role is to connect with farmers and help them find that workforce," she said.
"Attraction and retention are what I focus on, and I have certain tactics to share with businesses so they can improve [on those key areas].
Ms McCosker said she believed there were ways to attract people into agricultural work.
"It's such a great industry — it's hard to get people to come out here and do the hard work, but it's such a great lifestyle," she said.
The panel was hosted by RAPAD Media Advisor Nicole Bond and consisted of several different people with an interest in the growth of the region.
Mannager at Isis Downs Anna Cochrane was one such person; she said her company tackles the issue of worker shortages by creating a welcoming environment for her workers and being active online in the employment space.
"Certainly, I think creating a workplace where we are a family environment is important," she said.
"It's important because we live and work together, as well, we can't go home at the end of every day.
"If our team don't get on, they can't separate from each other — they still got to sit around the same dinner table."
Dealing with the issue of retainment, Ms Cochrane said she was very conscious of the type of people she hires.
"Since we've started at Isis Downs, which was about five years ago, we quickly learned that you have to be very choosy about whom you employ," she said.
"You might get a couple of applications, but if those people are not the right people, you're better off not employing them and trying again.
"And that might mean rewording your adverts, it might mean looking at some alternative benefits on top of pay, or whatever."
However, she noted Generation Z workers brought a very different mentality to work.
"Another thing that I've learned is that those who are in the younger generations think differently to those of us who are in our 40s and 50s," she said.
"And that's not a new phenomenon, as we grow up with have different environmental influences.
"For example, people in their 40s, we might value loyalty and hard work.
"When you first start a job, the first six months you work as hard as you can as long as you can because once you've done that first six months you've bought your reputation.
"What we've learned working around the zoomers and Gen Xs is they like to feel a part of your family, they like to bounce ideas off each other — because they've grown up with social media and that immediacy of communication."
Host Nicole Bond said RAPAD had been working on a social media campaign to promote quality workers to the outback.
"We are developing this platform to sell the narrative and the culture," she said.
"It's not just a nice, shiny advertising opportunity, it has behind it a full report by the Regional Australia Institute that has mapped out that the average commute time in the region is one minute, that the average house price is $250k.
"We've found the pain points that other people are experiencing in other parts of the country and we have transposed them on top of — what is the equivalent out here?
Ms Bond said the next step would be to pay marketers for a large digital rollout.
"When someone is in Toowoomba and they are complaining, gee the traffic is getting really bad in Toowoomba these days, and their phone is listening.
"Our ad will pop up on their Facebook feed saying, 'come to Central Western Queensland average commute: one minute."